Tales of the Evermore Volume Two!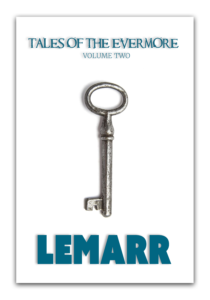 Return to a world of wizards and pirates in three tales…
First, with the help of an otherworldly stranger, a widow must not only save herself from a fiendish threat but must venture into a larger world where myths just might be true.
Then, what exactly does the mysterious box (which seemingly cannot be opened) contain that makes it a danger for the citizens of Port Falmouth? That is what the young wizard, Azael, and his friend, the Captain, hope to discover…if they live long enough to uncover the answer.
And, then, in the midst of a war for the fate of reality, a weary Azael must stand trial for crimes he didn't commit. The judge, the King of Thieves, was once a companion if not a friend. Now, he wants the wizard dead…even if it costs the world its greatest ally.
SaveSave
SaveSave